Energy-Efficient Features of Metal Roofs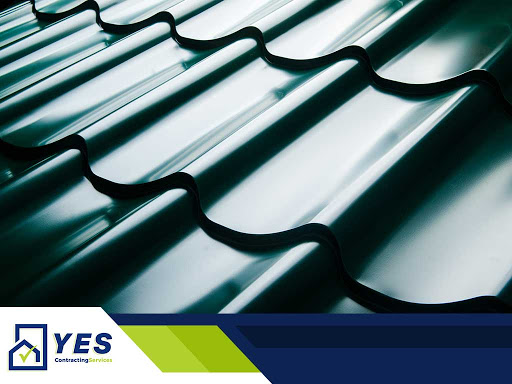 Metal is one of the most durable roofing materials you can choose for your new roof installation. Aside from being durable, it's also energy-efficient and can benefit you in ways you wouldn't expect.
Energy efficiency can be simply defined as using less energy to produce the same results. Metal roofs are capable of doing several things to your home at no extra cost, meaning you'll get to save more money in the long run.
Y.E.S. Contracting Services, your residential roofing contractor, shows some ways metal roofs are energy-efficient:
It Reflects Solar Heat Away From Your Home
Unlike other roofing materials that absorb the sun's heat and transmits it into your home, metal roofing reflects solar heat away from your home, helping to keep your interiors cool even on a hot, sunny day.
Unpainted metal roofs, as plain as they are, are more reflective than light-colored asphalt shingle roofs. The latter, despite being light-colored, still absorbs more heat than metal roofs.
Pre-painted or granular metal roofing, on the other hand, have an added bonus. Aside from reflect solar energy away from your home, they also re-emit the heat they absorbed, helping to keep your home cooler during hot summer days. This helps you spend less on cooling expenses.
It Lowers Roof Temperature
As mentioned, metal roofs reflect most of the sun's heat away, preventing it from permeating into your home. Cool-metal roofing, on the other hand, does it better.
Cool pigments in the metal roof's coating allow it to reflect even more heat, helping to significantly lower roof temperatures. What you get is a cool roof that helps lower indoor temperatures in buildings without air conditioning.
It Provides Excellent Insulation
Metal roofs provide excellent insulation, helping keep cold air outside and warm air inside during winter. This helps lower your heating bills when it's cold, even stormy, outside.
If you're interested in metal roofing and want it for your home, Y.E.S. Contracting Services is here to assist with your residential roof replacement. Give us a call at (844) 811-0681 and we'll schedule a meeting for a free no-obligation quote. We serve homeowners in Kingsport, TN, and nearby areas.
Address: 3611 North Roan Street, 37601 Johnson City, USA
Tennesse:
Bristol
Clinton
Dandridge
Erwin
Farragut
Greeneville
Jacksboro
Knoxville
Maryville
Maynardville
Morristown
Mountain City
Newport
Oak Ridge
Rogersville
Rutledge
Sevierville
Gastonia
Hendersonville
Hickory
Jefferson
Lenoir
Lincolnton
Marion
Mars Hill
Mooresville
Mount Airy
North Wilksboro
Shelby
Sparta
Spruce Pine
Sylva
Taylorsville
Tryon
Waynesville
Yadkinville
Virginia:
Abingdon
© All Rights Reserved | 2020 YES Contracting Services
General Contractor Licenses. TN: #72270 NC: #81321
Address: 3611 North Roan Street, 37601 Johnson City, USA
© All Rights Reserved | 2020 YES Contracting Services |General Contractor Licenses. TN: #72270 NC: #81321