How Clogged Gutters Can Affect Your Home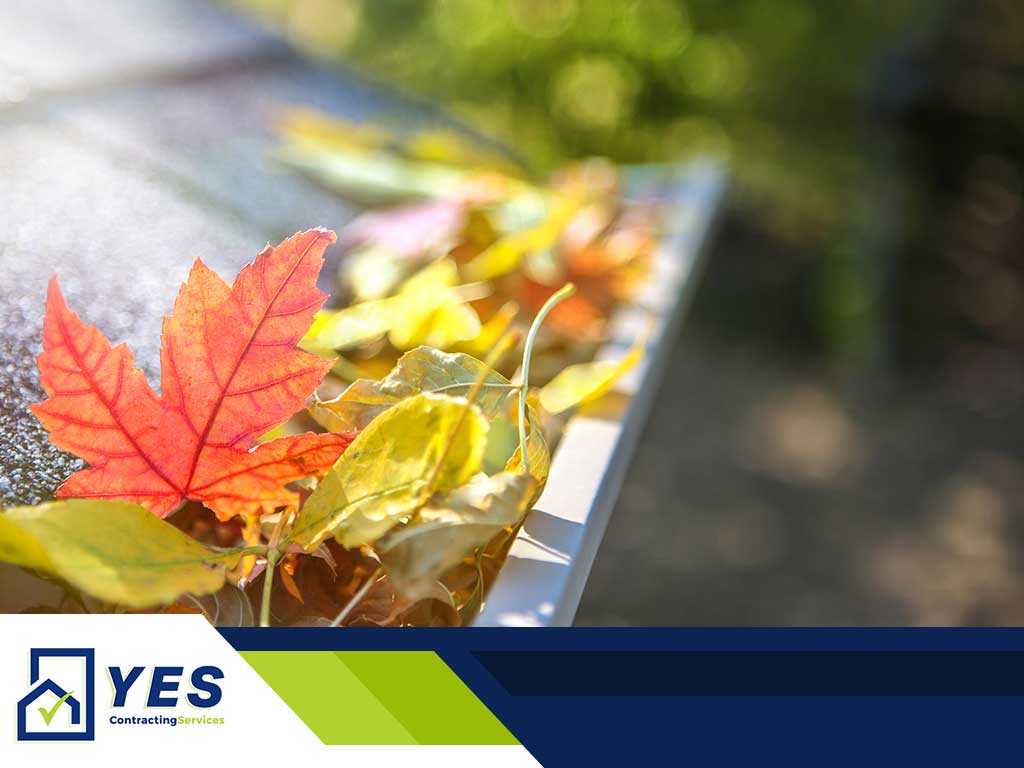 Gutters are an important part of your home. They drain your roof when it rains, effectively directing rainwater to areas where it won't cause any problems to your home. Taking care of them and preventing them from getting clogged ensures long-lasting protection for your home.
When leaves, debris and other kinds of dirt clog your gutters, however, they tend to cause more problems to your home. Your roofing contractor,  YES Contracting Services, looks at a few ways clogged gutters damage your home.
Roof Damage
Clogged gutters lead to pooling water. The more water pools on your roof, the heavier it becomes. If left unchecked, this water will soon start to seep into your roof, leaking into your home. Leaking water will also damage your roof deck, compromising your roof's integrity.
The longer the leaking problem stays, the more water damage your roof and ceiling will sustain. Your roofing construction company advises clearing your gutters to make sure rainwater will always drain smoothly and avoid pooling.
Water Damage
As mentioned, clogged gutters can lead to water damage inside your home. This can lead to even more damage than you want to deal with. For starters, water can damage your ceiling, interior walls and other indoor fixtures. Next, the moisture present inside your ceiling can become a breeding ground for mold, which is hazardous to your health.
Wood Damage
Wood is highly susceptible to water damage. Water can cause the fascia boards holding the gutter to rot. Eventually the boards break apart and fall to the weight of the water pooled in the gutter. At times, the gutter will even take the soffits with it as it falls.
Foundation/Structural Damage
Clogged gutters can also cause water to spill around your home's foundation. This is dangerous. A damaged foundation leads to compromised structural integrity, which in turn leads to a possible collapse.
In addition to these, any general contracting services provider knows that a clogged gutter can also result in damaged landscapes and a wet basement. Clogged gutters can also serve as breeding grounds for insects such as mosquitoes. Make sure your gutters stay clog-free!
If you're looking for ways to protect your home, YES Contracting Services is here to assist you. We offer our services to homeowners in Tennessee, North Carolina, and Virginia.. Give us a call at (844) 811-0681 or fill out our contact form and we'll schedule a meeting with you for a free no-obligation quote.
Address: 3611 North Roan Street, 37601 Johnson City, USA
Tennesse:
Bristol
Clinton
Dandridge
Erwin
Farragut
Greeneville
Jacksboro
Knoxville
Maryville
Maynardville
Morristown
Mountain City
Newport
Oak Ridge
Rogersville
Rutledge
Sevierville
Sneedville
Tazewell
North Carolina:
Banner Elk
Boone
Brevard
Bryson City
Forest City
Franklin
Gastonia
Hendersonville
Hickory
Jefferson
Lenoir
Lincolnton
Marion
Mars Hill
Mooresville
Mount Airy
North Wilksboro
Shelby
Sparta
Spruce Pine
Sylva
Taylorsville
Tryon
Waynesville
Yadkinville
Virginia:
Abingdon
Big Stone Gap
Bland
Clintwood
Gate City
Grundy
Independence
Lebanon
Marion
Richlands
Wytheville
© All Rights Reserved | 2023 YES Contracting Services
General Contractor Licenses. TN: #72270 NC: #81321
Address: 3611 North Roan Street, 37601 Johnson City, USA
© All Rights Reserved | 2023 YES Contracting Services |General Contractor Licenses. TN: #72270 NC: #81321