Key Differences Between Residential and Commercial Roofs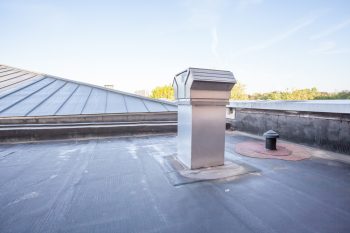 The roof above a house and that on a place of business are not the same. The differences between residential and commercial roofs range from service life spans to the materials used in construction.
Your local roof repair contractors at YES Contracting Services share the key differences between residential and commercial roofs.
Materials
The materials used to construct residential and commercial roofs vary and usually depend on the roof pitch and the weather conditions where the property is located. Commercial properties usually have low-slope or completely flat roofs, which means things like TPO, EPDM and built-up roofing are the materials of choice.
Residential properties usually have mid to high pitches and this means the "classic" roofing materials – wood, asphalt, tile and slate, are the preferred roofing materials.
Operating Life Spans
Differences in material also mean the two differ in service life spans. Commercial roofing systems typically last longer due to the nature of the properties they're installed on. There are exceptions, though; metal and slate are two long-lasting roofs for residential properties that even rival their commercial counterparts.
Roof Design
Commercial roofs take into account one structural detail that residential roofs don't: the drainage. This is due to the fact that most commercial properties have flat or very low-slope roofing, which means shedding water is more difficult and it's easy for puddles to form on the surface.
Keep in mind that residential roofs, by design, do have drainage but they aren't built-in. Rather, they take the form of gutters which, while part of the roof, is still separate from the entire structure and can be changed as you see fit.
At YES Contracting Services, we offer complete roofing services – from roof repair and replacement to gutter installation. We're experts at servicing both residential and commercial roofing projects. Call us today at (844) 811-0681 to learn more about our services. We are local roof repair contractors in Tennessee, North Carolina, and Virginia.
Address: 3611 North Roan Street, 37601 Johnson City, USA
Tennesse:
Bristol
Clinton
Dandridge
Erwin
Farragut
Greeneville
Jacksboro
Knoxville
Maryville
Maynardville
Morristown
Mountain City
Newport
Oak Ridge
Rogersville
Rutledge
Sevierville
Sneedville
Tazewell
North Carolina:
Banner Elk
Boone
Brevard
Bryson City
Forest City
Franklin
Gastonia
Hendersonville
Hickory
Jefferson
Lenoir
Lincolnton
Marion
Mars Hill
Mooresville
Mount Airy
North Wilksboro
Shelby
Sparta
Spruce Pine
Sylva
Taylorsville
Tryon
Waynesville
Yadkinville
Virginia:
Abingdon
Big Stone Gap
Bland
Clintwood
Gate City
Grundy
Independence
Lebanon
Marion
Richlands
Wytheville
© All Rights Reserved | 2022 YES Contracting Services
General Contractor Licenses. TN: #72270 NC: #81321
Address: 3611 North Roan Street, 37601 Johnson City, USA
© All Rights Reserved | 2022 YES Contracting Services |General Contractor Licenses. TN: #72270 NC: #81321